I'm awesome. I wrote a book. It's got little to do with movies. Download and read "Thank You, Goodnight" right HERE for free.
A lot of superlatives could be used to describe the fierce yet melodic sounds of The Mighty Mighty Bosstones.
A band that has been around longer than many would realize, 1985, has had more members than Kool & The Gang, constructed one of the most durable bridges from punk to ska and fronted by one of the most pronounced vocalists ever to rock a mic The Mighty Mighty Bosstones could never be pigeonholed into anything that they themselves didn't already anoint their sound with. One of the other pleasures besides their seven studio albums was the pleasure of being able to see them live. Having the OG "Bosstone", manager and flash dancer Ben Carr, on stage and doing nothing but grooving hard to the music whilst the other members play is something that truly has to be seen to be believed. The energy and heart that the members of the band, guys who would sooner wear a shirt, tie and suit jacket on stage as they would shred through an Operation Ivy cover with blistering thunder, is simply unmatched. One of the more notable events that the Bosstones kept as a tradition within the band was their annual Hometown Throwdown, the latest represented the 10th annual incarnation of the event, which has the Bosstones playing for five sold-out nights in a row at the historic Middle East in Boston. The tradition has been a staple for many fans and its sold-out status every year is emblematic of this band's allure and reception in the music community.
One of the great things about being a band that has been around for as long as it has, and has weathered the number of band members who have come and gone, is its consistent quality. The albums it has produced, the singles which have been appropriated from mainstream radio to the movies, and the live shows that have never failed to connect means that their latest album, Medium Rare, is a compilation that has put together rarities and three new songs in a way that it doesn't feel like an empty cash-in. You listen to a song like "Don't Worry Desmond Decker" and, unless you're a heartless zombie who deserves to be shoved and locked in a room with a pack of emo pantywastes, there is something instantly toe-tapping about it; you want to bounce around a little, you feel like there should be more to modern music and that it should sound more like this.
It's hard to put words to reasons why this album deserves some scratch so I've obtained a handful of copies to give away plus I've turned to Dicky Barrett to give me a little insight into this album's making. Besides being a part of Jimmy Kimmel's late night crew, and has a fleeting cameo in "I'm Fu*ing Ben Affleck", Dicky has kept busy even when the music hasn't been. Leave a comment below with your e-mail address hyper linked (or send me an e-mail) if you want a chance to win a this album and here's what Dicky had to say about his latest and greatest.
CHRISTOPHER STIPP: I confess I can't call myself a hardcore fan because I didn't know about this album until a few weeks ago.
BARRETT: Yeah, we didn't put it out with any kind of machine behind us or label support. Minimal distribution. We were in Boston over the Christmas break and we've been promising our fans to combine a lot of the B-sides. What's so difficult about taking songs that are on Bosstones records and putting them on another record and putting them out there? Very often they were on different labels and it requires legal paperwork and red tape. So, we got a good solid collection of these songs, and wrote three new songs and put it out there.
CS: That's fantastic. It's sounds like a real cohesive album. It's not like it's a bunch of out of left fielders.
BARRETT: It's a nice sounding record too.
CS: Absolutely. And the three new ones really blend in well with the whole album.
BARRETT: That's the genius of Joe Gittleman, producer of the Bosstones sound. He knows the Bosstones sound like I know the Bosstones look.
CS: Right. Was he there from day one?
BARRETT: He was there from the beginning. Joe could say he was there before me.
CS: Really?
BARRETT: Yes, he's the bass player and him and Nate asked me to play in the band that they had when they were still in high school.
CS: And through all these years, the sound has stayed consistent. I've never read an interview where you mentioned that you were going in a new direction, a new sound – that's a warning sign it's a concept album. The sound has always stayed consistent.
BARRETT: What we've always tried to do is do exactly what we want. We came out of the gates mixing pop and metal and ska. We had a very wide spectrum to choose from. We never at any time wanted to do a hip-hop record or straight jazz record but there are always elements of everything. We called ourselves ska because we didn't want to be labeled.
CS: People always tried to pigeon hole you into something.
BARRETT: They need to call something something. They would always ask what kind of music do you call yourselves. It's Bosstones music. We could tell you our influences and let you know what we are listening to but you can't call us a metal band, or straight pop band. That's not fair to the Sex Pistols. After it's all said and done I think we hold a place in music that holds it own. Whatever we did it was very much The Mighty Mighty Bosstones.
CS: I think that's absolutely accurate. As a fan, I wish more people would have purchased the records to continue the band's rise to a higher level but your greatest success came in the late 90's, and let's face it, your appearance in CLUELESS helped…When you look back at it are you happy with the success you had or do you wish you would have gotten to the place where you were on the cover of every magazine?
BARRETT: I really wouldn't have minded that but to be the Bosstones is not the Rolling Stones. It's just not for everyone or easily understood. It's hard to explain. At the peak of our popularity I really didn't enjoy that as much as I probably should have. I took it too seriously. It felt to me like, "Oh shit, all these fans that we've created throughout the years – punk and ska clubs are going to hate this." It wasn't like we were trying for those things…things came to us. When Kurt Cobain died and people were feeling pretty miserable we thought it was time for people to feel a little bit better and we happened to be there with bands like Green Day, Rancid…it was time for uplifting music, which is what we've always been doing. It wasn't like we flipped our flannel shirts off and put on the suits – here we are we've been being the Bosstones for 10 years before that. My mask could be off.
(Laughs)
CS: When you guys came back to record new songs, at least the three for the new album, how long did it take….the answer I think you might give is that it clicked immediately, but how long did it take for you guys to get back in the groove to record the songs in classic Bosstone fashion?
BARRETT: Joe sent selected music he wrote at home, I liked it, we wrote some lyrics, he came over to my house, we jammed around in my living room, we went over and taught Lawrence what we were doing at the studio here in LA, taught him the music. It didn't take long, it didn't seem hard and it didn't seem difficult. We're just going to create some new songs to add to this collection and hopefully they fit it, people like them, they sound good.
It wasn't a long involved process – like we'll write them, then we'll rewrite them, try again and then we'll take them back to the studio. We'll send them around, we'll test market them with some different radio stations. We just recorded some songs the way we used to do it.
CS: And then going back for the Hometown Throwdown certainly helped to gel a lot of things, but how was it going back this year?
BARRETT: It was awesome. It was really really great. I was a little nervous beforehand but we had a great time. We are playing in LA and Las Vegas next weekend. So the guys start practicing tomorrow to get ready.
CS: Is it going to be 5 nights in a row at each place?
BARRETT: Nah.
(Laughs)
You got to think of it like - it wasn't like we played high school football together for four years. We were on the road playing 300 plus shows a year for 16 or 17 years together. It wasn't hard to get back in the groove once we knew – there was a little bit of rust and a little bit of stiffness and a little bit of dust. It just didn't take too long. This is how it goes and just didn't take us long.
CS: The reason I bring it up is that Wilco just did a 5 night stint in Chicago. It was called their Winter Residency.
BARRETT: I love that band.
CS: I think they are one of the best playing today that not a lot of people either care about or….
BARRETT: Never really got the attention or notoriety but like I said, be careful what you wish for.
CS: Exactly.
BARRETT: It would suck if Wilco was a household word too.
CS: That's true.
BARRETT: To everybody but them I'm sure.
CS: If it's anyone that deserves some kind of mainstream recognition, it's them. They played 5 nights in a row – all of the shows surfaced nightly on the Internet – but it was amazing to hear the guys, over the course of 5 nights, getting tighter and tighter. It was sold out and they mentioned they wanted to do it again next year. What's it like to go out there and do something 5 nights in a row in one place – what's it like by that fifth night?
BARRETT: For me, exhausted, but it's a huge sense of pride. It's everything you just described. Holy shit. It's been five years since we did it. It's nice to know you still care.
CS: That people still care.
BARRETT: It's nice to know that people still care. It's nice to know you can still do it and nice to know that other people still care when you do.
CS: How is it like coming back now to try and balance music with television now that the writers strike is over?
BARRETT: That was - the writers were absolutely – I'm a writer myself of music – to be robbed the way they were being robbed is unfortunate. I don't know – it's fine being back. I'm excited. We have shows to play and stuff to do and I certainly like working for Jimmy Kimmel. It's a great place to work.
CS: And how to you balance – you bounced to radio now television – all your interests?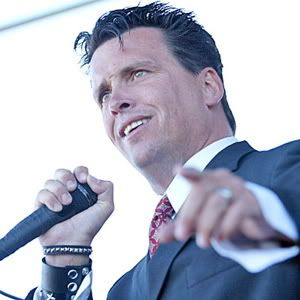 BARRETT: I don't know. None of it is solved. Busy schedules but I'd like to tell you it's really difficult and I don't know where it comes from and I'm really gifted and I can spin several plates at the same time but it doesn't seem like hard work to me. It feels like I'm doing things I like and glad to have the opportunity to do it.
CS: And of course, a lot of people are asking if there is going to be a new album with the guys.
BARRETT: I think we might. We haven't really sat down to talk about it but I don't see why not. We certainly enjoyed being in the studio for the songs we recorded so I don't see why not.
CS: The songs that were chosen for Medium Rare, was there any over guiding or over riding idea of what should go on?
BARRETT: Let me give you the factors that went into it. One was the ones that we could legally put on, that was the first thing. After that it was whether or not it was kind of rare enough or whether it was on – a lot of them have been on B sides and stuff and the third was Joe wanted to make it cohesive and feel like a record so those were the three factors. We could have put 10 more songs on if we didn't follow those guidelines so that's the way we did it.
Comments:
2 Responses to "Trailer Park: Dicky Barrett"
Amanda Faughn Says:
July 13th, 2008 at 2:04 pm

Wow, what a friggin great interview. I can't tell you how much i enjoyed that, you really can't find many Dicky Barrett interviews online. I love these rare little looks into the mind of Dicky

I attended a Bosstones concert last night at McCoy Stadium in Pawtucket, Rhode Island (I'm from Cranston =]) and it was beyond incredible. I wore this red plaid tie and when Dicky came close to me (besides screeching his name every time he did) I threw the tie up to him and he caught it and put it on.

I could NOT believe it. I've got pictures and videos of him wearing it!

He wore it for Desmond Dekker which is probably my all time favorite Bosstones song, and a few other songs, and then he actually threw it back to me. He was looking for where it came from and I pointed to me (I was front row on the floor for the whole thing by the way) and he threw it back to me. I almost didn't catch it, other people were grabbing for it.

It was covered in his sweat, haha.

Needless to say that tie is hanging up on my wall now, I nearly cry every time I look at it.

I love Dicky Barrett

Jules Murphy Killeen Says:
July 21st, 2008 at 7:39 pm

Saw the MMB and DKM with the VANDALS last night in OC , CALIFORNIA… 7/20/08 WOW they never cease to amaze and deliver… Dicky Barrett is as engaging as EVER… Now lets talk about his voice..EMPOWERING as well as there political statement… Barack Obama… WOW WHAT A WAY TO END THE SHOW IN THE OC man that the Orange CURTAIN…They are consistent, and are true to their word and FANS!!!! JIMMY KIMMEL that says it all!!! they take care of their family…I no longer listen to LA radio because of Clearwater… or was that Blackwater radio… you decide…

Talk about responsible Moshers HAHAHA I ve never minded to be pushed so much in my life ( OK AT A CONCERT)..And the SERVICE MEN presence in the audience was PROFOUND…. I picture these guys BLASTING this music in their tanks GOING TO BATTLE!!!What else have they been given???to survive…

In closing I now have a huge crush on Ben Carr… Saw you guys at House Of Blues and you made fun of me on a stool in VIP… HAHA so I say PUEG GA MAHONE … sp? Gaelice for KISS MY ASS OTIS>>> LOVE YOU ALL!!!

Jules

LOVED LOVED LOVED IT!!!!AS FRESH AS EVER!!!!
Leave a Reply