Instead of manning-up and actually going the emotionally hard route of being outrightly rejected by publishers, I'm rejecting them first and allowing you to give my entire book a preview, let you read the whole thing or, if you like, download the whole damn thing at no cost. Download and read my first book "Thank You, Goodnight" for FREE.
Here's how I can tell that I'm getting to know Missy pretty well: I can so spell her name without having to look it up to see if that's really how you spell P-e-r-e-g-r-y-m. It's like the back of my hand at this point.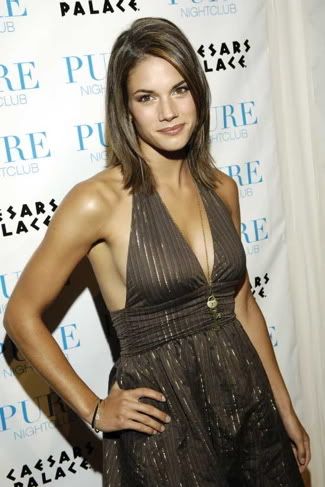 One of the reasons, though, that I genuinely looked forward to Comic-Con this year, and how it was honestly one of the most satisfying trips I've taken to San Diego, was that Missy is always an entertaining interview; she's completely honest about what she's doing, she's never at a loss to tell it like it is and I can't help but be amazed by the joie de vivre she possesses.
Missy has a way of navigating the cutthroat waters of life in Los Angeles by simply shrugging at the absurdity of it all while carving out a resume that is slowly starting to generate more and more opportunities for the actress. From her stint on HEROES to her current run on the CW's REAPER, and if you haven't checked out the goodness that is the pilot episode I am sure those of you who are technically inclined can catch that wave somewhere on the Interwebs, Missy brings a freshness to roles that speak to her personality: charming and disarming.
It's hard to dismiss the fact that she enjoys what she does and is thankful for what she has but she's markedly different from any other vapid actress I've ever had the misfortune to interview from the standpoint that Missy, at the end of the day, is someone who embodies the axiom of good things happening to good people. With regard to her role as someone who plays opposite of a man who has to keep a day job with the devil Missy can simply do no evil.
To be sure, when Missy took the stage with her fellow REAPER cohorts at the panel in the biggest hall at the Comic-Con, exuding the same nonchalant attitude that has been present with every interview incarnation we've had, I had the feeling that if nothing else in life she can at least be someone who can say that she is who she is and isn't about to compromise anything to get there. However, she could shill for The Ryde and hook a brother up with one of those cryptic "MMM…Burritos" shirts that she was rocking much to the amusement of this journalist during the interview I'm sure her conscious would turn a blind eye…
Now, since this is the last installment of my Comic-Con coverage I have to publicly give much love and many thanks to my anonymous and hardest working PR source that keeps allowing me to talk to Missy and others in her employ. You made the expense of getting to San Diego worth every cent I spent and I appreciate it. I still think you need to dress up better if you ever think about taking a photo with me again but I'm sure we can work on that next year.
Download SDCC Missy Peregrym Interview:
Large (560 x 420 - QuickTime - 144.45 MB)
Small (320 x 240 - QuickTime - 62.40 MB)
[display_podcast]
Comments: