Allison Janney is one of the first people I've ever talked to that has radiated a genuine sense of ease and openness. She also takes the cake for being the first person I've ever talked to regarding prescription medication for generalized anxiety with regard to flying.
Allison's career has been punctuated with Emmy wins (four, actually) for her work on The West Wing, is the only cast member from that show who has won more than one for her work, has starred in films like THE HOURS, THE ICE STORM but has integrated FINDING NEMO and PRIVATE PARTS into the mix and she's managed to build a resume that many of her contemporaries only wish they could possess.
Today, though, Allison's turn as Prudy Pingleton in the newest incarnation of HAIRSPRAY is one of those parts that demonstrate her ability to draw on her dramatic roots and play a part that is equal measures absurd and comedic. I wish I could say that the conversation ranges from the mundane to the insightful much like every other interview I've conducted but Allison was up for some casual conversing regarding the film, about what she still has yet to accomplish in her career and the fact that, yes, she does speak in the 3rd person in a way that is completely endearing when it comes to declaring her ability to sing and dance. The conversation picks up in the midst of an explanation of whether she's been doing a lot of traveling in support of her next job, a role in The Autumn Garden during the Williamstown Theater Festival.
HAIRSPRAY opens today, July 20th.
ALLISON JANNEY: I'm doing a lot of back and forth these days.
CHRISTOPHER STIPP: Nice flight. Isn't that a five hour one?
JANNEY: It's four and a half out and five and a half back.
STIPP: Joy… Do you do well, flying?
JANNEY: I've gotten better at it. I used to have a big fear but not anymore. It's gotten better…maybe it's the drugs. [Laughs] Maybe the drugs have gotten better. No, seriously, I've just been doing it so much that I've just let go of the fear a little bit.
STIPP: I'm in the opposite position. I was doing well all my life and now, whammo.
JANNEY: Really? Was there an incident or something?
STIPP: I'm pretty sure it stemmed from becoming a father some years ago. I'm equally sure that there's some psychoanalytical component going on there but the Ativan is the world's best drug. Ever.
JANNEY: Someone gave me a book, a pilot actually, when I did the Ellen DeGeneres Show, a pilot gave me his book…
STIPP: I've got that one! It did nothing to help curb the irrationality. I think I'm a lost cause at this point.
JANNEY: You have to ask yourself: Do you want fear or faith? Be fearful or faithful.
STIPP: Yes. You're absolutely right. But enough about my irrational fears of burning in a wreck of metal…Are you doing this flying to help support the film, doing promotions on both coasts?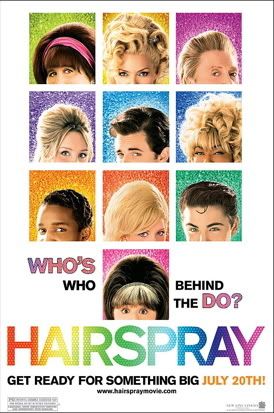 JANNEY: Actually, no. The premiere is tonight here in LA and I did a workshop in New York, and I did two weeks of that, I'm back for the premiere here tonight and I am going back to New York, renting a car, and heading up to the Williamstown Theater Festival; I'm going to be doing a play called The Autumn Garden. After that I come back here and then, hopefully, I'm going to be doing His Girl Friday at the Roundabout Theater this fall and through the spring. John Guare did an adaptation of it, in conjunction with The Front Page, which was a stage version of His Girl Friday and he kind of did an amalgam of those and we're going to try and put it on if we can find the man who can play Walter.
STIPP: Keeping busy in the theater.
JANNEY: Yes and it's making me happy, too. A lot of this movie stuff has been driving me crazy, so many things I've been attached to…I just wanted to do something that makes me feel good. I haven't done any plays in seven years so I wanted to get back in doing that.
STIPP: That's interesting you bring that up. I've talked with a few different television actors who've said that they enjoy being able to do things like that in their off time when they're not in production. Were you able to squeeze in any of that during your time on The West Wing?
JANNEY: Well, I did little parts in movies during the break. One time, in the beginning, I did a play of Shakespeare in the Park in New York City but that was just after we filmed the pilot. Maybe it was the year after, I'm terrible with dates…but it was never really long enough to do any kind of serious theater because it couldn't be any longer than a one month commitment.
I just didn't.
A lot of times I would just get too tired. Work was so great but it was just so…so…
STIPP: Exhausting?
JANNEY: Yes. Yes. Exhausting… and when you don't get spend much time with any of your friends or family. So, when you get that time off… you just want to do something other than work.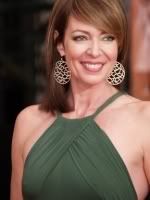 STIPP: Like any other job, I take it.
JANNEY: Yeah. And I really miss the theater. I'm just really excited to be able and do that again.
STIPP: What's your passion? Shakespeare, the modern playwrights…
JANNEY: Shakespeare, I've done it. I went to study Shakespeare in London but I like doing revivals and modern new plays. I don't have any specific genre that I like…But I am just a fan of other playwrights. There are so many different plays I like and there's no one particular style that I think I excel at. I did Arthur Miller's play A View from the Bridge and I loved that…Shaw I love…I can handle style pieces, I tend to like them better. I'd like to do a musical too.
STIPP: Well, being in HAIRSPRAY…
JANNEY: I hate to say that I'm the only character that doesn't get to sing or dance. I can sing and dance but in this incarnation of Prudy they did not have her sing or dance.
STIPP: I have yet to see the film but I'm surprised they changed that.
JANNEY: Yup, they changed it from the play.
STIPP: Why did they do it?
JANNEY: I don't know. I can't speak for them. I have no idea why they decided to do that unless it was…I think to pad out the other parts they took away some stuff from Prudy….I don't know, really. You'd have to ask them. I will say that I was disappointed that Prudy Pingleton didn't sing or dance and I know that Allison Janney is one talented actress.
[Laughs]
STIPP: I'm surprised you didn't kick down some doors and wield those Emmy's. I was a fan of the original when Prudy is walking into the wrong side of town. That whole montage is wonderful.
JANNEY: I know! That was one of my favorite scenes and they took it away…John Travolta does that part now.
STIPP: Huh?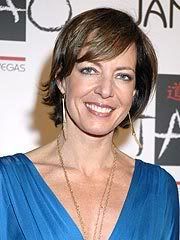 JANNEY: I know, believe me. They gave that part to John. She's a little trimmed down in this version.
STIPP: What else, besides cutting the heart out of the original, have they changed…
[Laughs]
JANNEY: It's still there. Prudy still has some very fun moments. It's really a cameo…it's what I'd call it. Scott Whitman and Marc Shaiman and Adam Shankman, they're friends of mine, so when Scotty called and asked "Will you come do this?" I just said, "Of course I would. I'd love to." I hadn't even read it….Of course I'd do it…I kind of remembered what Prudy's part was so when I read it I was like, "Wow, didn't she have more to do?"
[Laughs]
I wanted to do it anyway because I love them and I had a great time doing it and I'm really happy to have been a part of it because it was so much fun.
STIPP: How long were you on set?
JANNEY: I literally had three days of shooting and they were each a month apart.
STIPP: Why am I even talking to you? Are you sure you're actually in the movie?
[Laughs]
JANNEY: I mean I really did just fly there, do one day, and then leave and then came back three weeks later and do another day. So everyone was like, "Oh…Yeah, hey!" It was a bizarre experience and I don't feel like I made my HAIRSPRAY friends but I tell you, Nikki and Amanda were so great. They were the ones I worked with the most and I just adore those girls…They were just so great with me. We just bonded and instantly they were so welcoming and appreciative that I was there. They really made me feel welcome. I had a good time.
STIPP: Were you able to see them in other numbers that you weren't necessarily a part of?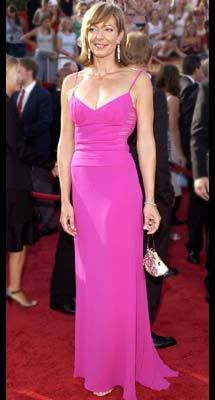 JANNEY: My very first day there I was able to see them do one of those really big numbers, Good Morning Baltimore, which was so exciting. It was thrilling.
I just wanted to run through one take, dance and leap around. It's great, I loved it.
STIPP: Musicals are really making a comeback.
JANNEY: I know!
STIPP: I don't know if you've seen it, the film called ONCE, it's a musical that recently came out and has done especially well. It seems like people are genuinely open to seeing these kinds of films.
JANNEY: ONCE? It's a musical?
STIPP: Yes. It's a little film from Ireland and it's perhaps one of the best movies I've seen this summer. Plus, it's like 90 minutes. It's short.
JANNEY: Hmm, love that too…I haven't seen anything.
STIPP: Are you able to get out and catch a lot films?
JANNEY: I try but I think I've gotten spoiled being a voting member of different unions so I get a lot of screeners. I've got my nice TV and I love to be at home. I'm a homebody. I'd rather see a movie at home than go out. Unless it's like to go out and see something like a DIE HARD where the only reason to go is to see it on the big screen.
STIPP: Have you seen anything of note?
JANNEY: I haven't seen OTHER PEOPLE'S LIVES but I'd like to. I've just been working.
STIPP: And speaking of work, why did HAIRSPRAY lend itself to being remade? It seems like the original was especially good already. Did you have any reservations about dipping into the remake?
JANNEY: No, not at all. I love Scott and Marc so much and I saw their Broadway production. No, I totally thought it would be all fun. And I think John Waters, he's in it, I think he's happy with it and what they did. But I think it's one of those movies that…I mean look at GREASE. People are less interested in taking a risk and doing something new so why not take something that's tried and true, put some music to it, stick it on the screen and see what happens.
It seems like the American musical is an original invention so why not bring it to the big screen, that way people won't have to go to Broadway to see a musical. They can go to their theater in Iowa and see a big Broadway musical.
STIPP: I think, too, that Waters' original was pretty good with the way he treated segregation. The film comes at a time in history before the pressure cookers of racial change. Is that still at the core of this movie?
JANNEY: Yeah. Yeah, it is. And it still kind of works today too. At its heart it's about people being afraid of what they don't know. It's a microcosm of what still goes on today. With different races, with different religions, different countries, it seems to be a message that people don't ever learn.
STIPP: Are people just incapable of learning or is this something that will be a part of the human experience?
JANNEY: It just will. It may not be about black and white anymore but it will be something.
STIPP: What keeps people coming back to musicals that are seemingly brought out from the closet year after year?
JANNEY: I think that when you see something, like Grease, it's a part of your past and when there's a movie that comes out you have a relationship with it. People are more apt to seeing something that they have in their heart that they had a good experience with and experience it again. Or maybe they'll feel like taking their kids and say something like, "I love this, maybe you'll love this too." There's history attached to it.
STIPP: Is there more of a leniency with actors being able to move to film, to television, to the theater?
JANNEY: I think so, definitely. Especially as parts become more scarce. Actors might start saying, "You know…maybe TV isn't so bad." I think that most actors are scared of doing theater.
STIPP: Really?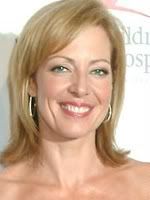 JANNEY: Yeah. I think that Julia Roberts is brave to go and do theater. That's how you really prove your weight as an actor is in the theater. And I feel like any great actor would be good in the theater and I think that everyone should do more theater. Most actors should not be afraid to jump in and do it but if you grow up doing television it's like, "I've already done that scene. I don't want to do it again." People get lazy. But there's so much fun in the repetition of the theater, you find new things, and there's so much freedom in that structure and the relationship with the audience every night.
STIPP: As a woman growing older in this business what do you have to say about the women coming up through this business? The ones who have to look young and act young while you, yourself, try and find the parts that will allow you to keep working in the way you'd like to?
JANNEY: Well, it's so different for every woman. I, because of my size… I mean, when I was fifteen I was playing forty year-old women. My career has never been dependent on me looking young and beautiful so I don't know what it's like for those girls. It's certainly going to be hard once that's gone, so I think that the one thing that can be worked on is your acting and not so much what you look like. Really work on the craft of acting and if you really work on that craft time is kind to you, I think. But I think the women that last in this business are the ones that are really great actors. But that's what I think!
[Laughs]
STIPP: And that's a great way to end it. Thank you, so much, for the time.
JANNEY: Well thank you, Chris. I'll think about you on my next flight.
STIPP: I'd say the same thing but the Ativan would wipe out any memory of you.
Comments: