One thing that struck me after I hung up the phone with HEROES' Missy Peregrym is that she simply talks and thinks like someone who has better things to do than shoot the breeze about NBC's greatest ratings superpowerhouse since MISFITS OF SCIENCE. Missy is just pleased to be working and didn't show any signs of contemplating what the show means to her career or life right in this moment.
She has more pressing issues on her mind.
From eschewing the typical cookie cutter Actress label and all that entails to really opening up about what it is to be a woman in America, nevermind the fact that one of the unspoken rules of Women's Fight Club in Hollywood is that you never let on that some of the images and affectations you're expected to portray in any given role might drive some young lasses to develop an eating disorder.
What is clear, though, is that besides our mutual disdain and revulsion towards television shows like THE BACHELOR, which should be exterminated, not euthanized, Missy is not an evil shapeshifting mind bender in real life but what she is, though, is a woman who is deserving of the kind of accolades you would bestow on someone who does indeed possess a modicum of power and simply chooses to take the road that is not beset with hordes of Yes-Men and ass-kissers.
Missy just wants to live a life that's free of scrutiny over what she chooses from her closet and free to think that while being on HEROES is a gift it's what you give back, and what you're willing to believe in, that makes life worth enjoying. She's honest, direct and deeply insightful and is everything you wish more people in her line of work could be. From raising awareness to the plight of young women to eloquently iterating how it is that dysmorphia runs rampant through those who sup at the fountain of Cosmo Missy, quite simply, is the kind of woman you would hope every daughter could turn out to be. Makes you wonder whether she does possess something special in her DNA.

CHRISTOPHER STIPP: So, how are you doing?
MISSY PEREGRYM: I've been doing really good.
It's beautiful in LA…it's starting to get warm…I'm done filming…I don't know what I'm doing with my life again…
(Laughs)
You know, the usual.
STIPP: Well then let me find out, tell me, how HEROES all came about. How long did it take for you to go from interested to having the part itself?
PEREGRYM: It all happened within two weeks. I auditioned…I auditioned on a Thursday or Friday, thought I did absolutely terrible, and I left feeling like, "Forget it. This sucks because this is a great show I want to be a part of but I blew it and I'll just have to get over it."
And then they called back. They said they wanted to see me again and it was between me and another girl and they wanted me back that following Monday. So, after that I think it was like three days and I found out. It was great. Even then we didn't know how it was going to work out because we had to get my working papers in order as well.
STIPP: That's right, you're from up north.
PEREGRYM: Yeah…I'm an immigrant.
(Laughs)
STIPP: And had you been living in LA prior to that?
PEREGRYM: Oh yeah. I've been in LA ever since I came to train before filming STICK IT, I've been right here.
So, I've been staying here and I've had working papers but it's only specific to which studio I'm working with at the time. Just because I have working papers, though, it doesn't mean I can work every production. It's tough because I've lost jobs over it.
STIPP: Really?
PEREGRYM: Yeah, there are things I can't go out for because there's not enough time to get them done. Recently, there was a pilot…it happens all the time.
STIPP: It must be an odd thing to contend with.
PEREGRYM: Yeah, it is. It's incredibly frustrating but it's so incredibly expensive to get your green card as well and it takes a long time. Eventually that's really what I have to do and I should be putting in an application but I'm a procrastinator.
STIPP: Can't you circumvent the whole thing by getting married in this country?
PEREGRYM: Yes, I think, but I don't know how that all works. I think it's still difficult but I believe if I get married here I have to stay here and can't go back home for six months or I can go home but…it's all just really confusing. I looked into it and I was proposing to people on the street. No one said yes.
(Laughs)
So, it didn't work out that well.
STIPP: Has HEROES worked out a little better? How has filming been for you?
PEREGRYM: It's been a lot of fun. Sometimes it's tough because my character…I don't get to do a lot of the stuff. I mean, my scenes, the way they're written, are amazing. Now, sometimes it's frustrating because I can't act them out because everyone else is acting my part and I just pop up at the end and say, "Ha-ha." So, believe me, it was great to be a part of it…I love the show so much and I love my character and I hope I'll get to do a little more but it's been a blast and I never thought I could love playing evil so much.
STIPP: I know you're billed as a Guest Star…
PEREGRYM: You know, I don't know what they're planning for next season. The idea is that I'm coming back but nothing is contractually binding me to that.
STIPP: Since you're saying that you don't get to do much are you on the set a long time out of the shooting day or do you hang out to watch the production as it happens?
PEREGRYM: Well, no, not really. I'll be around for my scenes. I have to be around for the entire scene whether or not if I'm in it but when you're on set, you're on set for 12 hours and that's for your stuff. So, even though the camera time isn't a whole lot it's the process that takes a lot of time. And it's important that I'm there as they're there for my stuff because we both have to kind of interact. We have to do the same things and copy each other from the time that I morph to the time that it's me. It's fun, though. I think it's a fun role for everyone else to play to because they get to step out of their character too and play it a little cheekier than usual…except for Ali Larter's character because she's already got that going on.
STIPP: Are you able to prospect for new jobs or is HEROES taking all of your time?
PEREGRYM: No, it doesn't take a lot of my time. When it comes to the dates it's really great…the only thing is because there is so much that's going on, and since they're really committed to making this the best show, they like to keep you around. They don't like you leaving town. They like to keep you close. If a shot doesn't work out or if they don't complete their day, which happens a lot…why? Because it's a tough show to film…That's frustrating. Sometimes. Sometimes. But, other than that, it's so easy and I'm really blessed to be a part of that.
It's really difficult for those that are the stars of the show because they're in it all the time and they're the ones filming 12 hours a day and it's so tiring but I don't have to go through any of that. So…I kind of scored the best job there.
(Laughs)
STIPP: Now, to bring up a point, weeks and weeks ago when you were contemplating entering the fray with this show did you have an idea for how widespread the viewership for HEROES had become? The fanaticism of it all?
PEREGRYM: When I joined, I knew it was a hit, I knew it was doing really well. But, I don't think I really understood because I don't watch a lot of TV. The shows I was a part of LIFE AS WE KNOW IT, shows like that, things I was proud of, they did OK but it's pretty incredible to be part of a show that's taking off as much as it is.
What I'm proud of, really, is that everyone works so hard. The cast and crew are so nice. You just want the best for everyone that's a part of the project. The actors really put in 100% all of the time and the writing is just genius. Every episode is interesting and I cannot even remember what is going on. I watched last night's episode [.07%]. I had no idea what I was doing! I couldn't remember anything because the show moves so fast. But the reason why the show is doing so well is because everyone involved is just so dedicated and creative and works hard.
STIPP: Is there extensive writing that's done on the fly or is the script the script?
PEREGRYM: Yeah. They're always changes. They're always rewriting it, all the time. You'll get the first draft the week before you go to shoot and then you'll get 500 different colors of all the changes they make. And that's good because once you're there to film it, that's it.
STIPP: This must also be the first time since you've been a part of something so big. Are you being recognized yet by geeks or fanboys of the show?
PEREGRYM: I really get recognized everywhere else but LA. They leave you alone out here which is great but it's weird when I do leave I almost forget that I've done things and girls will come up to me and I'll be, "Oh, yeah, I did do that movie…" But it's cool because I have the best fans in the world.
STIPP: Really? Come on…
PEREGRYM: I have the cutest little girls coming up to me.
And you know, I thought about it, the only real comic books I read growing up were Archie comics. Like, I was a dork but I was never into that whole Sci-Fi thing, I didn't watch a lot of TV but the one show that I really did watch was (Laughs)…Star Trek: The Next Generation. Every night, 7 o'clock, after dinner, with my family.
STIPP: No…
PEREGRYM: Yes!
It makes me laugh because I totally forgot about it until a couple of days ago. I'm down with Worf!
STIPP: Were you also down with Wesley Crusher, Wil Wheaton?
PEREGRYM: Yup! And it was only the Next Generation.
STIPP: What else, then, are you doing with your time while you're here? Are you spending your summer doing anything in particular?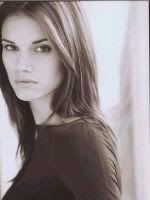 PEREGRYM: Well, nothing is confirmed, as of yet but filming for HEROES starts back up at the end of June. There's not much time to do anything unless it starts right now.
It's probably the effects work that's contributing to that timeline; they are just unbelievable, to be able to do that week in and week out.
Incredible. They do such a job with it. It's impressive.
STIPP: How are they able to churn through all the work that goes into it?
PEREGRYM: They have two crews, really, to be able and handle it. You can't even call it 1st and 2nd unit. They have two units that are filming simultaneously because there is so much to do and everything takes a long time. It just takes an extra amount of time.
STIPP: So, what's the lead-time then? From shooting a scene to when it airs…let's take last night's episode…nice boots and skirt combo, by the way…
PEREGRYM: Oh my God!
STIPP: I don't and wouldn't comment on something like that but it was obvious…and that was at the moment when I was telling my wife about who I was interviewing, obviously she doesn't watch the show, and she had no clue but when you morphed back and you're standing there…
PEREGRYM: That's funny because…my character…I don't have to commit to a lot of things. They can adapt me however they want. It's funny because the wardrobe started out very different than that. And then, on the day of shooting, they're like…we just improvised the outfit. I got a little confused. I was like, "Whoa! I'm kind of getting confused about my character. What's going on with her? How old is she?" You kind of just have to go with the flow.
But to get back to when I shot it? Probably a month and a half…and not even that because I'm including the production break in-between that…when they weren't airing any new episodes?
STIPP: Right.
I'm not looking for scoop, so let me preface the question like that, but without saying anything specific do you think the creators know where they want to go with the series? I'm just thinking of LOST where there's a real sense that not even they know what's happening on the island.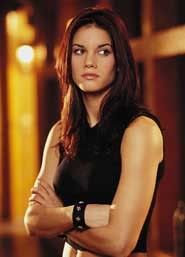 PEREGRYM: I think they have an idea of where they want to go with the characters but realize they don't tell us very much at all…and when I entered they had so many other storylines going…and I don't think they have a lot of time to focus on me when they have all these other things to tie up. I don't feel my character has alliances with anybody and…I can tell you that I honestly have no idea what's in store with my character.
Did that answer the question?
STIPP: Yeah, it did. I just see things from the angle that there are even more balls, characters, that have now entered the fray and, with the exception of a few quality kills, no one substantial has really exited.
PEREGRYM: And I think that's why it's complicated for the writers as well. I really commend them for being able to control that because I think it's difficult to have intertwining storylines with old characters and new characters while making everything coordinate and make sense. I think it's tough to do.
I also believe that what makes the show so enticing is that you never know who's for good and who's for bad, What makes the show interesting is that all the people have the capability to do good and bad things based on life experiences or temptations or normal human instincts. And it's whether you're going to step-up or back down, whatever the case calls for, and I think that's what they want to do; they want to take something that's comic book-y but keep it realistic so that people can relate to it. It's interesting and it's cool and it has all these effects of people with superpowers…but these people have some very personal, relatable issues that are happening which I think are very basic.
STIPP: It toes that line between nerdiness and drama…You've got a girl who's adopted, you've got another who has daddy issues…
PEREGRYM: I think the writers are very good at doing that, keeping the foundation of the show rooted between those two things.
STIPP: Your parents live in Canada, right? Are they able to see your performance up there?
PEREGRYM: Yeah they do. Do you know they get it on Sunday night? They get it a day before it gets released here.
STIPP: I didn't know that….
PEREGRYM: Yup. My mom called me and said, "I saw you on HEROES" and I said, "What are you talking about? How did you see that?" "Oh, it's on Sunday nights…" It makes no sense to me. I can't imagine that whoever is in programming is OK with that because people can blog and say things on the Internet and spoil things for Monday night but I guess it's not a huge problem. I thought for sure, at first, my mom watched the wrong show but she said, "Well, are you doing other things I don't know about that are entitled HEROES?"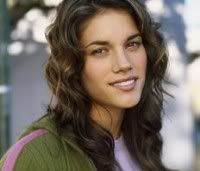 STIPP: Does she appreciate your work on the show?
PEREGRYM: Yeah. Both of my parents are incredibly supportive. I try to go back home as much as possible, get away from LA because it's good for me…It's nice that I have my family and friends to go to.
LA can be a wicked place…
You see that kind of thing a lot…I understand why…I can see how that happens but I know LA lives by different rules and standards compared to anywhere else I've ever been. I feel more comfortable anywhere else other than here. I just think it's easy to get caught up in that whether you want to or not.
I mean I had an issue with the way people thought of me as an actress and everything that goes with that. I hated the stereotypes I was getting…and I hated telling people that's what I did…and then with publicity, how you can get caught up with what I'm wearing now. As a result I don't do a lot of publicity events and I eventually realized I had gone to the absolute extreme so now I have relented a little but there's so little control over anything here. What you audition for and the jobs you get, that's based on everyone else's decision. Sometimes you feel like you've just got to let go and trust that things are going to work out.
And I'm not really speaking from personal experience but I've seen it as something I don't ever really want to be a part of. It's hard. The power of influence here is crazy, which can be a good thing, but I think it's really tough to stand up for really good things here because that's not what sells.
STIPP: How do you keep from being sucked into that? Is it just the support system that you have around you?
PEREGRYM: I think it's perspective. It starts with you. What your priorities are…your morals and values and what you stand for. I think, with me, I am really careful about the work that I do and there's not a lot of stuff that I love but my passion and my heart is for young girls.
I want young women to respect themselves. I want them to eat food, for God sakes, but I want them to take care of themselves. I want to inspire athleticism within young women… for them to take care of their bodies and it all starts with how you think of yourself.
For me it's about being focused on where I want to go and who I am as a person and everything else will fall as it should. But it's frustrating. It's definitely hard sometimes. I have my good days and I have my bad days. I live by the ocean and whenever I have a really crazy day I just go to the beach and that pretty much takes care of it.
STIPP: And I see what you mean. As someone now who is personally invested in how messages come across to young women, being the father of two girls, I can't imagine how it must feel to be bombarded with mixed messages by how a woman should act and be.
PEREGRYM: I am so thankful for my parents, I love them for it, because it wasn't like I had a lot of issues growing up, which I think a lot of them do now, looking at the magazines…how you've got to be skinny, so skinny…all the focus on the superficial…it doesn't matter. It's not going to help you grow as a person. It doesn't help you build character and everything that magazines are talking about now will be irrelevant in five minutes; it's not about developing as a woman, it's about looking like one.
(Laughs)
My dad had three girls.
STIPP: Oh my…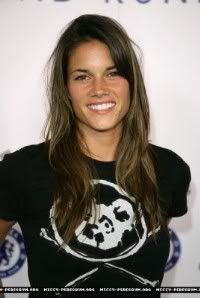 PEREGRYM: I have two other sisters and we're all very close. I'll be 25 in June. So, it'll be 25, 24 and 22. So…good luck. You will be stressed, I can promise you that.
STIPP: Well, no worries. I've already started an elopement fund.
PEREGRYM: And I think the reason why I have the standards that I do, especially in finding a companion, a man, I want in my life, a lot of that has to do with how my father was with my mom. He was strict but he loved my mom like crazy and I know all the things he put down in front of us as boundaries were to protect us. And, yeah, I hated it. A lot of the things, he wasn't going to let me date until I was 16. It was like, "I'm not getting married. Let me have a boyfriend!" "It's so unnecessary to have a boyfriend at that age," he would say. Now that I do have one it's very, very important to me that my parents approve of the person that I'm dating because I believe that they know what's good for me. They know what it's going to take to have a strong marriage and they're going to see that I'm respected and loved and taken care of.
I think it's important for girls to love and respect themselves and be excited to grow into everything that they are and I think that for them to do that it's hard because the messages are so construed. I would hope girls try and see what's really important. I think that when you respect yourself, and you're happy with yourself, you raise a higher standard for yourself. And when you do that you allow strong people who also believe those things into your life and it's about quality of life.
Everyone I know is, "If it's fun, then just do it." Yeah, it's permissible but not everything that's fun is good for you. It's about women and girls actually caring what they really instead of being told what they want. Figuring those things out will help you meet better men and it'll hopefully lead to you having better families, better children, it just goes from there. It's a chain link really.
##
Comments:
One Response to "Trailer Park Interview: Missy Peregrym"
wizard Says:
June 4th, 2008 at 3:43 pm

ACTRESS MISSY PEREGRYM TO APPEAR AT WIZARD WORLD CHICAGO

The Reaper And Heroes Actress Will Be On Hand To Meet And Greet Her Fans

Congers, NY (May 21, 2008) – She's been an illusion-casting temptress, an evil super genius and the girlfriend of Satan's bounty hunter. With such a wide range of equally sexy and feisty characters to her name, it's no wonder that Missy Peregrym has become one of the hottest young actresses in television today. Plus, after being ranked as one of Maxim magazine's Hot 100, she has the stats to back it up.

Peregrym can currently be seen on the cult favorite and critically acclaimed CW series "Reaper." The show centers on the adventures and struggles of Sam Oliver after discovering on his 21st birthday that he is now a bounty hunter for the devil. In her role as Andi Prendergast, Sam's friend and love interest, Peregrym has created a character as independent and confident as vulnerable and relatable.

The down-to-earth role of Andi is quite a different turn for Peregrym who first grabbed the attention of the viewing audience with her role on the TV phenomenon, "Heroes." As Candice Wilmer, an agent of the evil Company with the ability to alter people's perception of reality, Peregrym became a breakout character and was featured prominently throughout the first season of the series. Her character even got a graphic novel produced detailing her origin. On "Smallville" and some accompanying webisodes, Peregrym portrayed the dangerous Molly Griggs who controlled people through subliminal messages in e-mails.

With the teen comedy "Stick It," Peregrym received her big break by landing the lead role as a rebellious gymnast. Critics praised her performance and the role started her on the career down its successful path.

Wizard World, the largest family-friendly comics and pop culture convention in the central US, returns to Chicago June 26-29 at the Donald E. Stephens Convention Center. For a complete list of events, registration forms, guests, panels, ticket prices, and times, please visit http://www.wizardworld.com.
Leave a Reply